New Features
Common
Added connectivity to a Quadcept's brand-new cloud service, CCM. CCM is a cloud-based component management system designed to centrally manage Quadcept libraries in the cloud. Linking Quadcept and CCM allows the user to easily find up-to-date and standardized component data as well as to access real-time information including availability, alternate parts, and EOL status.
Added a separate ribbon tab for the Elefab™ menus for better usability.
Circuit Designer
Quadcept is now linked with LTspice® (a SPICE electronic circuit simulator).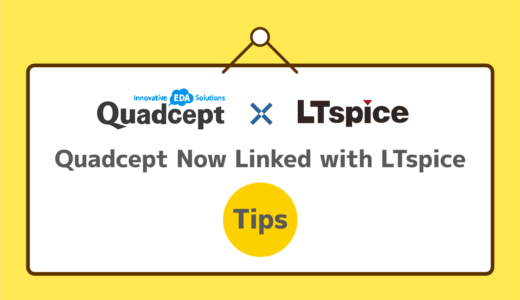 Quadcept Now Linked with LTspice
参考
LTspice® × Quadcept

Quadcept Official Site
Fixed Issues
Common
Fixed an issue where quitting Quadcept after running the Reopen Project command would clear the history and gray out the Reopen Last Browsing Project command.
Fixed an issue where only a single pin would be selected on the PCB by Cross Probe, even when multiple pins were selected on the schematic.
Fixed an issue where Ultra Librarian's library files containing specific descriptions could not be imported.
PCB Designer
Changed the minimum values of "Outline Width" and "Filled Line Width" for a plane object.
Fixed an issue where text objects were placed at the origin of a design sheet when importing them from specific DXF files.
Fixed an issue where the display of dimension lines could be corrupted when printing panel sheets.
Fixed an issue where rotating a PCB data within a panel sheet would change the shape of the mesh planes in the PCB.
Fixed an issue where a polygon including an arc could be an open figure in a RS-274X file.
Fixed an issue where the output results would change depending on the display state of a PCB design when exporting an IPC2581B file.
Fixed an issue where an ftf file containing a specific description could not be converted.
* LTspice is a registered trademark or trademark of Analog Devices, Inc.